---
(Mask descriptions below)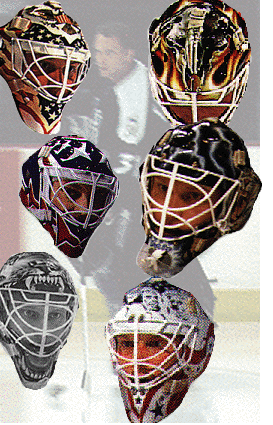 ---
The Masks are among the coolest things about any goalie. Rick Tabaracci has always had interesting and eye-catching designs on his mask, the latter ones taking his nickname "Tabby" into consideration.
From top left (going counter-clockwise):
Washington Capitals(1992-1994) - First mask, using the bald eagle and other US icons. Very cool!
Calgary Flames(1995-1996) - first mask. Tabaracci worked with a local (Calgary) design company (Cross Eye Designs), and came up with this cow skull design, keeping with Calgary's western identity. His nickname Tabby was inscribed on the back.
Tampa Bay Lightning(1997) - Tabby only had a short stay in Tampa, but this mask is one of the best! Check out those "Tabby cats" on the side! Once again, Tabby is inscribed on the back.
Washington Capitals(1995) - second mask. This one isn't too well known, I believe he only wore it for the last part of his last season in Washington. It's a little hard to see, but the Mount Rushmore design across the top is pretty funky.
Calgary Flames (1996) - second mask. Another rarity. Tabaracci started wearing this mask approximately two weeks before he was traded! The cat design is really cool! Hope he goes back to this one.
Winnipeg Jets(1990-1993) - the most basic of Tabby's masks. Around this time, most goalies were still using simple designs based on the team logo. I love the little fighter jets across the top!


---
What the heck is up with Tabby's new mask?? He's currently wearing his old Tampa mask with the Lightning logo erased out. That's all about to change! Read Shabby Tabby a fashion victim for details.

---
Tampa mask photo by Amanda Church (thanks Amanda!). Background photo by Michelle Finch. Photo design by Michelle Finch.
---
To check out some masks worn by other goalies, visit the Goalie Mask Page.

---
[Main][Photo][Masks][News][Quotes][Blasts from the Past]
[Newspaper Articles][Poll][fans][Career and vital stats][links]