---

(Career Stats - full stats available at a later date)
| | | | | | | | | | | | | | | |
| --- | --- | --- | --- | --- | --- | --- | --- | --- | --- | --- | --- | --- | --- | --- |
| League | GPI | MINS | AVG | W | L | T | EN | SO | GA | SA | SV | G | A | PIM |
| NHL | 286 | 15255 | 2.98 | 93 | 125 | 30 | -- | 15 | 760 | --- | .89 | -- | -- | -- |
Rick Tabaracci announced his retirement this summer. Congrats on a great career Tabby. Your fans will miss you!
---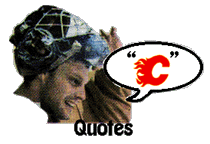 LINKS
---
[Photo]
[Masks]
[News]
[Quotes]
[Blasts from the Past]
[Newspaper Articles]
[fans]
[Career and vital stats]
[links]
---
Updates and Additions
Aug/2002 - With Tabby's retirement, few updates will be made on this site. So pretty much like the last couple of years. Right. I may scale down the out of date sections and provide more photos or tidbits over time, but don't hold your breath on how fast that'll happen. ;-)

---

In the 98/99 season, Rick Tabaracci was named official spokesperson for the Alberta Children's Hospital Foundation. He has done extensive work with the group, helping out with fundraisers such a Christmas gift wrapping and donating his Molson's Cup winner cash prizes, and still continues to host the Rick Tabaracci Celebrity Golf Tournement here every summer. The Calgary Mirror ran an article by Alex Frazer-Harrison on the ACHF in May. Please read, Children's Wish Foundation and see what good the ACH does in Calgary.
And if you're in Calgary - please donate to the Alberta Children's Hospital. You never know when you might need them.


---

The Rick Tabaracci Home Page is proud to have been awarded the Studyweb Award for the Career and Vital Stats section of this web page.

---
---
---
My personal bio! (VERY outdated!!) (offline until I can update the thing)


Old counter died at 3500...
email me atfinchm@cadvision.com