TABBY TALKS!

By Mark Miller (2/2/97)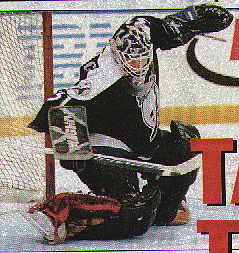 Rick Tabaracci seemingly has it all.
A condo in sunny Tampa two minutes from the rink, a starting goalie position, a new lease on his professional life.
But his heart is still in Calgary.
Sitting down in an Ottawa hotel, Tabaracci's thoughts wander back often to what could have
been in Calgary.
He's not bitter, but ...
The trade sending him to Tampa has allowed Tabaracci to send a not-so-subtle message: Maybe the wrong guy left town.
In Tampa, he's hailed as the saviour -the guy who has put a struggling team back into the playoff hunt while starter Daren Puppa recovers from a back injury.
After a slow start Tabaracci won the Lightning fans over, much like he did in Calgary with solid and sometimes spectacular goaltending that, until a loss last week in Ottawa, had him on a 12-game undefeated string.
But as much as Tabaracci wants to show the Flames they made a mistake, there is a much more important message.
At 28 years old, after four NHL teams, Rick Tabaracci wants the respect as a goalie he's never been afforded.
"Every player tends to carry a tag and I think the stigma I had was inconsistency in my career," says Tabaracci.
"Over the last three or four years, I've done what I could to shake that. It wasn't the ability that was ever questioned. I think people thought the ability was always there but the question was, can he keep it together on the ice night after night and be consistent enough to carry a team?"
Tabaracci thought he answered that question in Calgary when he signed a new contract this past off-season. But when the season started, Tabaracci and Trevor Kidd were embroiled in a sometimes bitter battle for the No. 1 job, with upstart rookie Dwayne Roloson chomping at the bit.
Tabaracci lost out, in part because of his age and contract status. Kidd is younger by four years and a first-round draft choice while Roloson makes $600,000 less.
"I honestly don't feel they gave up on me-- they did what was thought to be the best for both sides," says Tabaracci.
"As far as me being the odd man out, it hurts a little bit. You'd like to believe after the season I had before that maybe the club would have had the faith to step up and say this guy can do the job.
"I've heard since they made all three guys available for a trade but I understand why they had to move me and I'm thankful they put me in a position with Tampa where I would get a chance to play."
In Calgary, Tabaracci did his job well enough to challenge Kidd for the No. 1 spot and their relationship deteriorated.
Tabaracci says Kidd brings the entire Flames team down.
"It was fairly evident the day I left and read the quotes from Kidder that things could have been better," says Tabaracci.
"I've never had a partner who created animosity the way he did. I get along great with Corey Schwab here even though I've taken his playing time away.
"There's no reason a relationship shouldn't always be like that. Dwayne Roloson is the same type of character guy as Schwab and the other good guys I've played with. Those are the kind of guys you want in your organization. It was a different situation with Trevor. That's unfortunate but that's the way it went."
Tabaracci says goalies have to provide leadership on and off the ice and he questions whether Kidd provides that in Calgary.
"If I had to build the ideal team, I'd have talent guys and character guys. If I had guys who were close in ability but one was stronger in character, I'd take the character guy," says Tabaracci in a thinly veiled description of his situation.
"I'm not saying he doesn't have the character, but it's a vital position. There is no doubt Trevor can be a good goalie on some nights but it's a position much like a pitcher or quarterback. It's a leadership role.
"You need to have that strength that if you see it's not going well for the guys you can step up to hold the other team off.
"We had some things that happened last year that required five or six guys to sit down and ask themselves what can we do to help Pierre (Page)and the coaches.
"That's where strength in this league comes from. Leadership.
"I've really taken pride in my game in the last three years because I really think I'm adding something in the room as well."
In Tampa, Tabaracci has become a team leader while, in Calgary, Page talks often of bringing in more leaders to help his struggling team.
Tabaracci hopes that quality will hold him in good stead once Puppa returns from injury later this month.
"I really enjoy playing every night. I'm sure Daren is the same way," he says.
"He's carried the load for a long time here. But I don't see any reason why a team can't excel when they add talent, and that's what we're doing when Daren Puppa comes back."
But if it doesn't work out in Tampa in the long run, Tabaracci wouldn't mind another chance in Calgary.
As the interview ends, Tabaracci leans into the tape recorder microphone.
"Hey Coatesy (Flames GM Al Coates), if you're listening ..." he laughs.
"I really enjoyed Calgary and if the circumstances were right for everyone, I'd love to play there again.
"It's a place I'll probably call home once I'm done playing.
"I really thought at 28 I'd found the place I'd like to call home, but it didn't work out.
"You never know what could happen - I appreciate the opportunity I've been given in Tampa but I would love to still be a member of the Calgary Flames."

---
Back to articles