Player of the day ~ Richard Tabaracci
Friday, June 27, 1997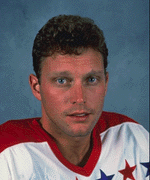 Born: January 2, 1969
Birthplace: TORONTO, Ontario
Residence: CALGARY, Alberta
Height: 5-11
Weight: 187 lbs
Position: Goalie
Rick Tabaracci has played for many teams over his hockey career and now heís heading back to one of his favorite cities and organizations.
Tabaracci has played his junior hockey with Cornwall of the Ontario Hockey League. Heís played for Muskegon and Fort Wayne of the International Hockey League. Heís made stops with Moncton and Portland in the American Hockey League. And heís played for five different NHL teams.
But last weekend, Tabaracci found out that heís heading back to the Calgary Flames, a city and organization that he ranks as one of the best that heís ever been involved with.
Tabaracci was traded back to the Flames last Saturday, the team he began this past season with and was a part of for three years. The Flames reacquired the 28-year-old goaltender from the Tampa Bay Lightning in exchange for a 1998 fourth-round draft pick.
Calgary had sent Tabaracci to Tampa Bay earlier in the 1996-97 season in exchange for centre Aaron Gavey, but now he returns the Alberta-based team and heís quite happy about it.
ìIím ecstatic to be coming back,î said Tabaracci after hearing of the news. ìSurprised, too.î
Tabaracci is heading back to a city in which he was very popular with both the fans and media, and, more importantly, with his teammates.
ìHe was an extremely popular player on our team when he was there,î said Flames general manager Al Coates.
While Tabaracci has played for several teams over his career, he has always been a valuable player while in the locker room and between the pipes.
Tabaracciís rise to the NHL began when he was the second goaltender selected in the 1987 Entry Draft. He was selected in the second round, 27th overall, by the Pittsburgh Penguins.
The Toronto native had a very brief career with the Penguins organization. He only played in 33 minutes of game action for Pittsburgh during the 1988-89 season before being traded to the Winnipeg Jets. He was dealt to the Jets with Randy Cunneyworth and Dave McLlwain on June 17, 1989 in exchange for Randy Gilhen, Jim Kyte, and Andrew McBain.
After parts of three seasons with Winnipeg, Tabaracci was traded to the Washington Capitals during the 1992-93 campaign in exchange for Jim Hrivnak and Washingtonís 1993 second round choice. He was a member of the Capitals for parts of three seasons and was Washingtonís 1993-94 nominee for the King Clancy Memorial Trophy for exemplifying leadership qualities both on and off the ice.
Prior to the 1995 trading deadline, Tabaracci was traded to Calgary in exchange for a 1995 fifth round draft choice. During the 1995-96 campaign, he appeared in 43 games and recorded 19 wins and a 2.94 goals-against average.
Tabaracci is coming off the best regular season of his nine-year NHL career. After playing in seven games with the Flames during the 1996-97 season, he posted a record of 20-25-6 with a 2.75 goals-against average and four shutouts in 55 games with the Lightning.
This season he set career-highs with 62 appearances between the Flames and Lightning and his 22 victories and five shutouts with both clubs this year were also personal bests.