My desperate gasp for fame!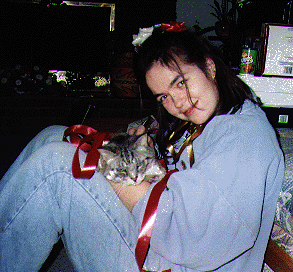 Here I am! Over Christmas of 1996, hanging out with my cat, Tabby. Yes, those are ribbons and bows in my hair, and no, my cat is NOT named after any particular NHL goalie! She's 16 years old! I'd have to be psychic!
The skinny on me? I'm 24 years old, and I live in Calgary, Alberta, Canada (a GREAT city! Come check it out!). I'm a huge music (Peter Cetera) fan, a huge hockey (Rick Tabaracci) fan, and a huge internet fan! I love all kinds of music. No really. From Chicago and Peter Cetera to Pam Tillis, Garth Brooks and Trisha Yearwood to the Goo Goo Dolls and the Gin Blossoms. Throw in my love for Frank Zappa, the Dead Kennedys, John Coltrane, Blue Rodeo and Marty Stuart, and I'm confusing enough to work in any record store! (And I have, but we don't want to go there!) But driving to work, I'll usually throw on Country 105 or KISS-FM (Top 40).
Ah, yes, work. I do it all. Right now I'm working as a Sales Rep for a video distributor. I'm also attending night school at SAIT (Southern Alberta Institute of Technology) (Go Trojans!) and taking courses like Photoshop and Illustrator. I'm also (whew) designing a web page for my friend's store (Hi Janice!). My ultimate goal is to have enough time to actually do one of the above things WELL!
Of course, with hockey season starting (wink wink, nudge nudge), photography will be my number one hobby, a carry-over from my journalism school years. I love hockey! Naturally I cheer for the Calgary Flames (with Rick Tabaracci as their new number one goalie, how could I not), but I also love the Tampa Bay Lightning, Chicago Blackhawks, and the Toronto Maple Leafs, in that order.
My other love, the internet, is great because I've met, and am planning to meet so many great people (you know who you are!). My travels have taken me to Las Vegas, San Francisco, Toronto, Los Angeles, Tampa and Lake Tahoe. Oh yeah, meeting Peter Cetera was cool too!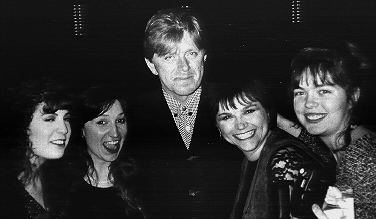 (Me and Da Gang meeting Peter Cetera backstage in Vegas, Nov 20, 1995! I'm the funny looking one on the far right!) ----->

That's it, that's about as interesting as I get! Go back to the Rick Tabaracci page. It's a lot more fun!